Moncure Reunion 2011 Information
MONCURE REUNION AUG. 4-7, 2011 - DENVER, CO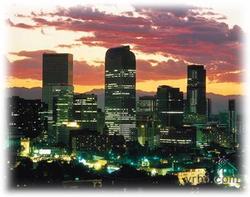 Start your exploration of the Mile High City! Discover the city's top attractions, including the Denver Art Museum, the Denver Zoo, and the 16th Street Mall.
In the summer of 1858, a small group of prospectors from Georgia crossed the great plains of the Colorado Territory and made a region-changing discovery at the base of the Rocky Mountains. Gold!. And although not much of the precious metal was found, the mere whisper of the word was enough to start a veritable stampede into the region. After all, the California Gold Rush had occurred just nine years earlier.
This year we travel to the Mile High City to reunite in Colorado.

We have planned an amazing retreat while trying to keep the prices as low as possible
.
The Lewis Family will be your hosts for this year's event.
Deadline for registering will be May 29th. Please return your paperwork and payment prior to this date. Installments are welcomed, but final payment is needed by May 29th.
Contact Sherron Lewis III at Sherron.lewis@advisors.com for questions.
ACCOMMODATIONS INFO:
RED LION HOTEL
3200 South Parker Road - Aurora, CO 80014
Tel: 303-695-1700 - Fax: 303-745-6958
E-
mail:
redlionsales@denversehotel.com
For sleeping room accommodations @ $79.95 rate X 12.35% (room tax )= $89.82.
For sleeping room accommodations @ $89.95 rate X 12.35% (room tax) = $101.05
(Breakfast Included)
We are holding 40 rooms under the Moncure Family Reunion.
Please call the hotel and book your reservation before July 3rd
.
The room rate will be released at that time.
Please indicate that you are with the Moncure Family Reunion when booking.Note:
Can request refrigerators for $10 additional cost. The Red Lion Hotel offers free shuttle transportation anywhere within a 5 mile radius.